Available Tours Include
Hobart Morning Tour with Afternoon MONA admission - $AU97
Join our morning City Tour 781 and get an orientation of Hobart before visiting one of the city's most exciting venues. A visit to the Museum of Old and New Art (MONA) will open your eyes to a gallery experience unlike any other. The pieces on display will take you on a journey of rival contemplations and emotional roller-coaster. This tour starts with our three hour Hobart Historic city tram tour and then joins the ferry for a ride up the picturesque Derwent river to MONA.
Includes MONA entry. Hotel pick-up by shuttle bus
Tour includes:

Sullivan's Cove - Hobart's birthplace and ferry terminal
Parliament House
Salamanca Place - Georgian style warehouses now restored as restaurants, galleries and pubs
Princes Park - a one time gun battery
Battery Point - charming historic houses, pubs, boutique shops and restaurants
St George's Church
Views of Wrest Point Casino and exclusive Sandy Bay
St David's Park
Stop at Anglesea Barracks
South Hobart at the foot of Mt Wellington
Cascade Brewery
Visit Cascade Gardens
Visit the remains of the Female Factory - a one time female prison
St David's Cathedral
Treasury Building and Franklin Square
GPO and Hobart Town Hall
Penitentiary Chapel and Court
Hobart Aquatic Centre
Queen's Domain and Government House
Cross the Tasman Bridge over the Derwent River
Views over Kangaroo Bay Marina and Bellerive
Stop at Rosny Hill Lookout for stunning views of Hobart, Sandy Bay, Mt Wellington, The Tasman Bridge and Glenorchy
Victoria Dock and Constitution Dock
See the exquisite Royal Tasmania Botanical Gardens featuring 'Pete's Vegie Patch', made famous by Peter Cundall of ABC's Gardening Show.
A visit to the Museum of Old and New Art (MONA) will open your eyes to a gallery experience unlike any other. The pieces on display will take you on a journey of rival contemplations and emotional roller-coaster.

To book
---
Port Arthur (former penal settlement) - $AU117
Port Arthur Historic Site is a compelling and dramatic reminder of our convict past and the early settlement of the Colony of Van Dieman's Land, now Tasmania. Interpretive and interactive presentations bring to reality the harrowing life of convicts 200 years ago. This tour offers maximum time at Port Arthur Historic Site.

Tour includes:

Cross the Tasman Bridge
Head out on the Tasman Highway over the Pitwater Causeway onto Forestier Peninsula
Pristine Pirates Bay
Eaglehawk Neck
Skirt Norfolk Bay on the Tasman Peninsula
Visit highlights of Tasman National Park
Wonder at the spectacle of Tasman Arch
Superb views of the rugged coastline
Be amazed at the magnitude of the Devil's Kitchen
Port Arthur - take a guided walking tour of the historic convict site - Port Arthur, with access to over 30 restored buildings and ruins
See the Penitentiary - a one time granary and flour mill, the separate prison, the Commandant's House, the church and more
Take a cruise on Carnarvon Bay around the "Isle of the Dead".

To book
---

Coal River Wineries - $AU100
Enjoy the day sampling Tasmanian wines in the Coal River Valley. Home to boutique family owned wineries, with palate tempting selections to please the connoisseur and novice taster alike. Treat yourself to a sumptuous cheese tasting and gourmet salmon platter at Wicked Cheese. Or munch on a scallop pie from the old Richmond Bakery whilst sitting on the grassy banks next to the oldest bridge in Australia.
Your Tour includes:


Pick you up from your accommodation
We will Visit at least 4 vineyards and meet their owners and winemakers
Includes a tasting of delicious local cheeses
Espresso coffee overlooking the Derwent River
Scenic drive through the Coal River Valley to Richmond Historic Village
Shipping wine to your home address can be arranged by our drivers.

Departs 10:00am
Returns 4:30 pm
Cost $100
To book:
---
Cascade Brewery Tour - $AU20
For beer tastings and a glimpse inside a historic brewery, book a tour of the 180-year-old Cascade Brewery, the oldest in Australia.
The 1.5-hour tours of this Gothic brewery include tastings and insights into the brewery process, plus lots of stair-climbing to work up a thirst.
Dress comfortably but safely to tour the brewery, wearing long trousers and flat shoes, rather than sandals.
After the tour, take a wander around the brewery's large landscaped gardens or relax in the cafe. Cascade brews premium lager, barley blonde-style beer, stout and pale ale, and the label features the trademark Tasmanian tiger.
Practical Info

Cascade Brewery is at the foot of Mount Wellington in South Hobart, 10 minutes by taxi from the city center. You can catch a bus 44, 46, 47 or 49 to the brewery from central Hobart.
Address: 140 Cascade Rd, South Hobart TAS 7004
Phone:(03) 6224 1117
Hours: Open daily tours operate at 11am and 1pm. Reservations required.
Admission: AU$20
To book (note you need to be 18 or older):
---
Bonorong Wildlife Sanctuary and ZooDoo (Tasmanian Devils on show) - $AU92 including Wildlife Sanctuary entry
Our original, longest running Bonorong Wildlife Sanctuary tour. Overlooking the Brighton Valley, the sanctuary offers close-up experiences of Australian native animals. Richmond, a Georgian style village resplendent with mellow stone cottages will take you back in time to the convict days.
Tour includes:

Constitution Dock
ABC buildings - Hobart's original sandstone railway station
Head out the Brooker Highway passing North Hobart and New Town
Derwent Entertainment Centre
Bonorong Wildlife Sanctuary overlooking the Brighton Valley, offering close-up experiences of Australian native animals
Get warm and friendly with a Tasmanian Devil!
Take a guided tour of Bonorong and learn of the habits of our native animals
Quolls, wombats, sugar gliders
Koalas, cockatoos, echidnas
Kangaroos, wallabies and more
Visit Richmond - one of Australia's most unique and historic towns
Time to explore Richmond - the bridge, the Gaol, convict built homes, small cottages, unique shops and restaurants.

To book:
Note

There will be an educational display of baby Tasmanial Devils and Baby Wombats on Wednesday from 18:00-19:00 in the Exhibition Foyer prior to the Conference Banquet.
---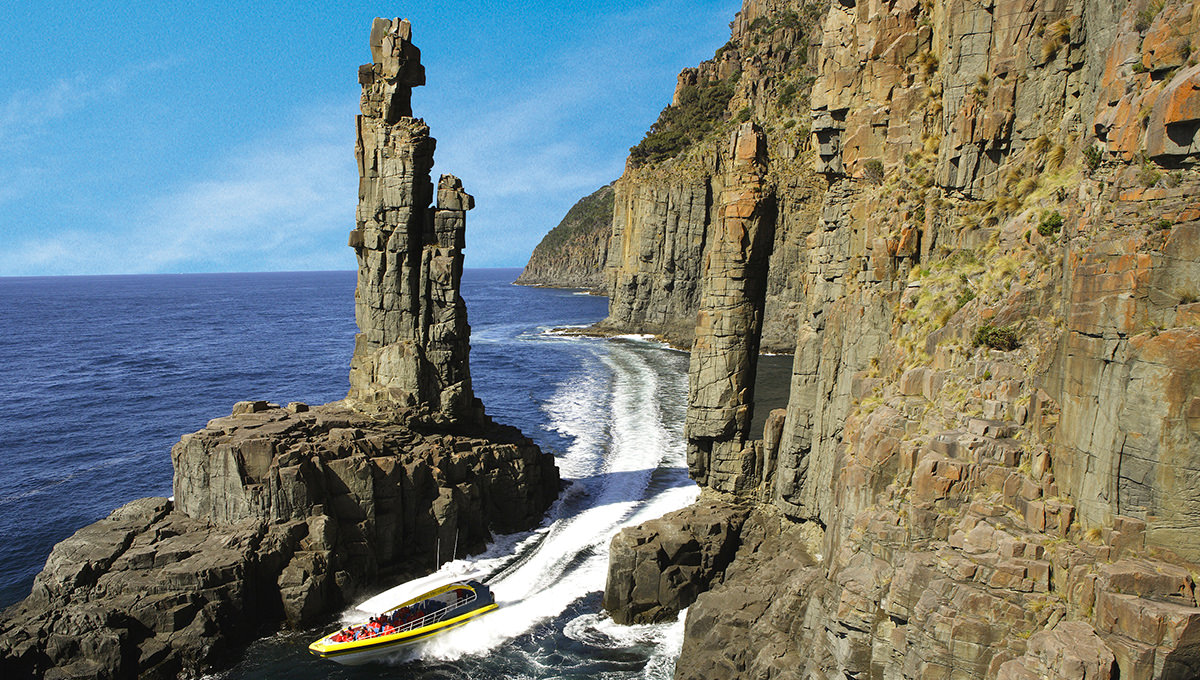 Bruny Island Cruise - $AU195 (8:00 am to 5:30pm from Hobart)
Bruny Island Cruises is an award-winning 3 Hour Wilderness Cruise exploring the rugged coastline of Bruny Island in southern Tasmania.  
Cruise alongside some of Australia's highest sea cliffs, beneath towering crags and drift up close to listen to the awesome 'Breathing Rock'. Enter deep sea caves, pass through the narrow gap between the coast and 'The Monument' and feel the power of nature at the point where the Tasman Sea meets the might of the Southern Ocean.
Join in the search for the abundant coastal wildlife such as seals, dolphins, migrating whales and sea birds. The highly trained interpretive guides love what they do - they work hard to ensure that the experience is fun, enjoyable, entertaining and informative.
The custom-built yellow boats are ideal for viewing the spectacular coastline and wildlife of Bruny Island. Each vessel holds a maximum of 43 guests. Covered open-air tiered seating means an excellent all-round view and connection with the environment. The boats are safe, comfortable and gentle on the environment due to their fuel efficiency, low emission and quiet operation.
To book
---
Mount Wellington Bus Tour $AU49
Crowned by alpine vegetation, dusted by snow in winter, Mt Wellington enables the visitor to glimpse the unfolding panorama of river, fields and the aquatic setting of Hobart town.

Tour includes

St David's Park
Anglesea Barracks - Australia's oldest Army facility
South Hobart - fine examples of early Hobart homes
Cascade Valley - home of Cascade Brewery and Gardens
Pretty mountain town of Ferntree
Pass through various eco systems as we ascend the mountain
Massive rock formation of the Organ Pipes
Mt Wellington Summit - a harsh rocky alpine environment affording unsurpassed views on a clear day
Witness the panoramic spectacle of Hobart, its surrounding suburbs, towns and vast waterways
Visit remains of the Female Factory - a one time female prison
Macquarie Street.

To book
---
Huon Valley and Tahune Forest Airwalk Tour from Hobart - from $AU165 (full long day tour)
Walk the tree tops of pristine forest at Tahune Forest Airwalk having traveled the Huon River Valley, a region of tended fields, superb forest clad rivers and fishing villages set by picturesque inlets.
Highlights:


Historic Salamanca Place - crafts and restaurants
Spectacular views of Hobart, the Derwent River and Wrest Point Casino
Kingston - Hobart's fastest growing town
Rural town of Huonville - hub of the Huon Valley
Franklin, township located on the banks of the Huon River noted for wooden boat building
Experience the country town of Geeveston
Head deep into Aussie bush at the Tahune Airwalk with stunning views over the Huon River
Walk on the valley floor at the Huon Pine Walk
Walk under tall tree fern canopies and alongside the tannin colored Huon River
What is the Tahune Forest Airwalk?
The Airwalk is located in the Tahune Forest. The Airwalk varies between 25 and 45 meters in height and the walk itself is more than half a kilometer long amongst the magnificent forest canopy allowing a unique view of the surrounding environment including the Huon and Picton Rivers. It takes approximately half an hour to walk through and is a level walkway. Time is also available for a second walk on the ground (boardwalk) through the Huon pines. There are disabled facilities and access to the site.

To book

7:30am departure from Wrest Point
---
Take the Local Bus
Tasmania's Metro Buses can take you to and from a wide range of interesting tourist destinations including:
Bonorong Wildlife Sanctuary
Penitentiary Chapel and Courts Historic Site 
Kingston
Royal Hobart Botanical Gardens
Tasmanian Transport Museum 
Anglesea Barracks
Alexandra Battery
Opossum Bay and South Arm Peninsula
Tasmanian Cricket Museum & Blundstone Arena
Cadburys
Ferntree - Mount Wellington
Long Beach/Twilight Market
Seven Mile Beach
Wrest Point Casino
Shot Tower
Mount Nelson and Truganini Reserve
Cascades Female Factory
Cascade Brewery
Runnymede House
Derwent Entertainment Centre
Museum of Old and New Art (MONA)
Salamanca
Battery Point
Woodbridge and Peppermint Bay
There is a bus stop outside the hotel - why not have an adventure.
For more details see:
---
If you are staying at the conference venue (Wrestpoint Casino) please book through through Guest Services on (03) 6221 1888 or call in the the Guest Services desk at the hotel.
If you are staying outside the conference hotel please book direct with the tour operators using the links and phone numbers provided.
Please note that the conference organizers are in no way responsible for the suggested tours and receive no commission from the tour operators.